Liebherr SFFfg 4001 laboratory freezer with explosion-proof interior container
Liebherr SFFfg 4001 laboratory freezer with explosion-proof interior container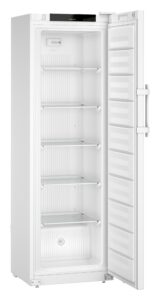 Liebherr SFFfg 4001 laboratory freezer with explosion-proof interior container
Liebherr offers refrigerators and freezers with a spark-free interior specifically for storing explosive and highly flammable substances in laboratories and in the chemical industry. The inner liners meet the safety requirements of EU Directive 2014/34/EU (ATEX) and have been tested according to the EN 1127-1, IEC 60079-0 and IEC 60079-15 standards by electro-suisse – SEV (Swiss association for electrical and power engineering and information technology), an approved ATEX conformity evaluation organisation.
Product features
• +2 °C SafetyDevice
• ±5 °C temperature stability
• Power failure info
• Min./max. temperature log
• Easy-to-clean interior
• Feedthrough for external sensors
• Mechanical lock
• SmartMonitoring
• Retrofittable WiFi/LAN interface
• Antimicrobial handle with opening mechanism
• Replaceable door seal
•Self-closing door < 90°
• SmartFrost
Liebherr offers refrigerators and freezers with a spark-free interior specifically for storing explosive and highly flammable substances in laboratories and in the chemical industry. The inner liners meet the safety requirements of EU Directive 2014/34/EU (ATEX) and have been tested according to the EN 1127-1, IEC 60079-0 and IEC 60079-15 standards by electro-suisse – SEV (Swiss association for electrical and power engineering and information technology), an approved ATEX conformity evaluation organisation.

Product features

• +2 °C SafetyDevice
If the temperature falls below +2 °C due to a malfunction, the SafetyDevice takes control, stabilising the temperature, activating the alarm and protecting the contents from freezing

• ±5 °C temperature stability
Sensitive substances cannot be subjected to large deviations from the set storage temperature. Liebherr freezers guarantee a temperature fluctuation of no more than ±5 °C, so that the valuable goods you store in them are optimally protected and their quality is preserved.

• Power failure info
Mains failure alarm after a power failure.

• Min./max. temperature log
The min./max. temperature log stores the minimum and maximum interior temperatures and shows on the display whether the storage temperatures were within the tolerance limits.

• Easy-to-clean interior
The inner liner made of fully recyclable, robust and odourless polystyrene is manufactured in one piece without joints. This makes it quick and easy to clean the large, rounded corners.

• Feedthrough for external sensors
An integrated opening allows a separate sensor to be connected for additional temperature monitoring without having to drill holes or break the door seal.

• Mechanical lock
Liebherr professional appliances are equipped with a mechanical lock and two keys. This ensures that unauthorized persons cannot access your valuable and sensitive stored goods.

• SmartMonitoring (optional)
The cloud-based digital solution continuously monitors and documents temperatures and alerts you immediately via email, text message or phone if any deviations occur

• Retrofittable WiFi/LAN interface
The retrofittable WiFi/LAN interface enables you to easily connect your appliances with Liebherr SmartMonitoring or existing local systems.

• Antimicrobial handle with opening mechanism
The smooth-turning handle contains special antimicrobial substances that make it particularly hygienic. Regular and time-consuming disinfection is not necessary
•
Replaceable door seal
Save time and money: the insertable Liebherr door seals are easy to change. If a seal is damaged, you can replace it yourself without any tools. Contact Liebherr Customer Service to purchase replacements.

•Self-closing door < 90°
To make loading, unloading and cleaning easier, the appliance door stays open if opened by more than 90°. If the opening angle is less than 90°, it closes automatically for safety.

• SmartFrost
Where there's no ice, there's no need to defrost: SmartFrost greatly reduces the frost build-up in the interior and on stored products. Defrosting is required less often – and when it is necessary, it is made much easier by the smooth, easy-to-clean interior walls. The evaporator is embedded in foam insulation, ensuring high energy efficiency and uniform cooling.
---
Specifications for Liebherr SFFfg 4001 laboratory freezer with explosion-proof interior container
| | |
| --- | --- |
| Number and material of doors; door hinges | 1 steel; right; reversible |
| Gross/Net capacity (liter) | 316/242 |
| Cooling temperature (°C) at max 30 °C ambient temperature | -9…-30 |
| Number of shelves | 5 |